The Data Protection Specialist for Schools and Trusts
Tools, best practice and support for your data protection and information risk management
Our Services
Whether you need a fully-outsourced Data Protection Officer (DPO) service or support for your existing data protection team, we can help.
Data Protection Education offers a fully-independent and impartial solution for long-term or one-off projects delivered through a team of consultants with a diverse mix of legal, data protection and educational expertise.
Whether you are a standalone small primary, a large multi-academy trust or a provider of services to the education sector we have a solution to meet your needs and budget.
Select an option to find out more →
Or share with your colleagues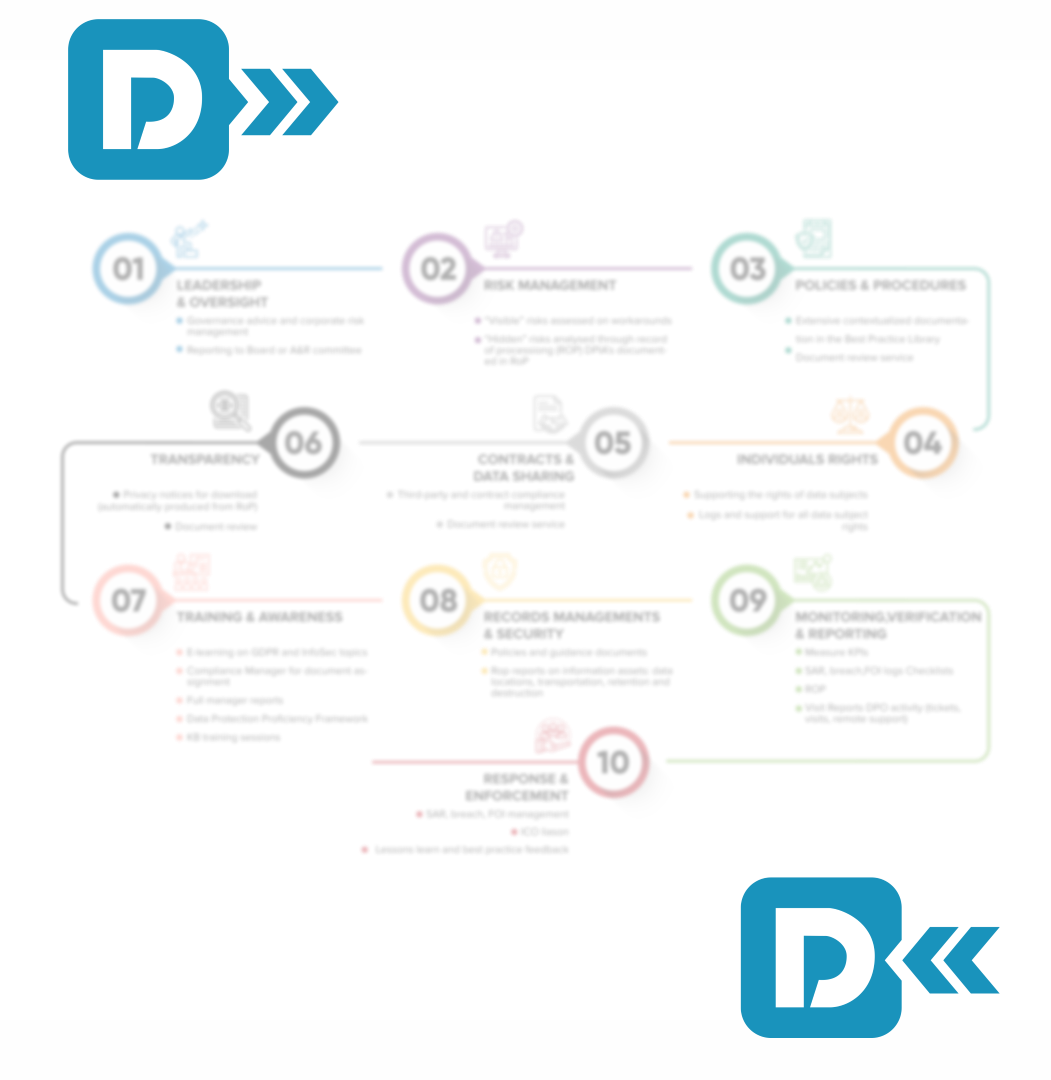 How we work
The Data Protection Education approach uses recognised frameworks supported by experienced individuals to guide you on your journey to compliance.
That includes tools, best practice, implementation strategies as well as monitoring and reporting for every part of the Information Commissioner's Office accountability framework. 
With a named consultant assigned to work directly with your organisation, and a core-DPO team ready to respond whenever you need us, you can be sure that our hands-on approach delivers results that go beyond your compliance and accountability requirements.
We work with organisations small and large, schools, trusts and education support services. Everyone gets tailored support that meets their needs, timescales and budget.
Why Choose Us
Data Protection Education has a unique mix of legal, data protection and education expertise throughout our team, meaning that when you choose us, you are working with a team who understands how schools work.
Our backgrounds include a range of school roles - governors, teachers, administrators, data managers and IT managers - as well as expertise in data protection, educational technology, procurement as well at the local authority level.
Over 150 Years of
Experience in Education
With experience in all aspects of education and school management, there's nothing that we haven't come across before. 
Fast & Effective Solutions
24/7 access to the Knowledge Bank and speedy responses to all your tickets and issues from our core DPO team.
Best Industry Experts
We aren't just educationalists; our core DPO team includes a solicitor, a barrister and two staff with Masters Degrees in Data Protection Law. As a team, you never need to worry that your DPO is not available when you need them.
Flexible Pricing System
Our service level agreements are structured to your needs and organisational size. Whether you are a small primary school or a large multi-academy trust, we have a solution that fits.
"From initial engagement through to actively working with our schools and Central Team, we have been impressed with the whole DPE team. Their knowledge, support and advice about practical application of GDPR in schools and Academy Trusts has been extremely helpful and well received by leaders across our organisation"
"DPE provides excellent support for all our GDPR requirements. The knowledge of the team and experience within the education sector means they understand how we work and can support us with data protection queries and advice. The online training has upskilled all of our staff and improved our practice.
The onsite training for key staff at each school has given our team the confidence to roll our improvements to how we handle data at the local level. Support with policies and data protection impact assessments has allowed us to take a proactive approach to data protection at the Trust."
What Clients Say About Us
We're proud of our customer relationships and work hard to make every one of them a success. It's important we hear from you as we strive to be the best data protection services for the education sector.
Here's what they say about us...
Contact us today with any questions or for a